Heated Argument Between Virat Kohli and Gautam Gambhir – However, it was not a pleasant sight to see the India's two World Cup winning team members Virat Kohli and Gautam Gambhir – nearly about to Smash each other after an IPL Match 2023. It's not only took the gleam away from the low-scoring match in an otherwise it records the highest scoring tournament ever. But it also painted a grim picture of the two players, the one that fans are not exactly unaware of. So, What was the actual reason behind Virat Kohli and Gautam Gambhir conflict after the LSG and RCB match at Lucknow?
Yes, the multiple arguments that Kohli was to elaborate in with Naveen ul-Haq during the match. However, Amit Mishra and Gambhir on Monday stemmed from the LSG mentor's celebrations and aggressive gestures in their previous meeting in Bangalore. So, It was a revenge personified by Kohli when he himself, in a video posted by RCB after their 18th run win against LSG, said: "If you can give it, you have to take it, otherwise don't give it."
However, it was the seed of grudge was their between these two players. Hence, We have to go back in time to the IPL of 2013 when Gautam Gambhir was the captain of Team KKR and Virat Kohli was the leader of Team RCB. So, during the match between RCB vs KKR at Chinnaswamy. After Kohli left, Gambhir seemed to have said something to Kohli which was not well received by Virat. He turned around and the pair came face to face for the first time on the cricket pitch. However, they had to be separated by Rajat Bhatia, a former KKR player.
Gambhir Charges at Kohli, Comes Face to Face After Pushing KL Rahul; Ugly Scenes Post LSG vs RCB IPL Match 2023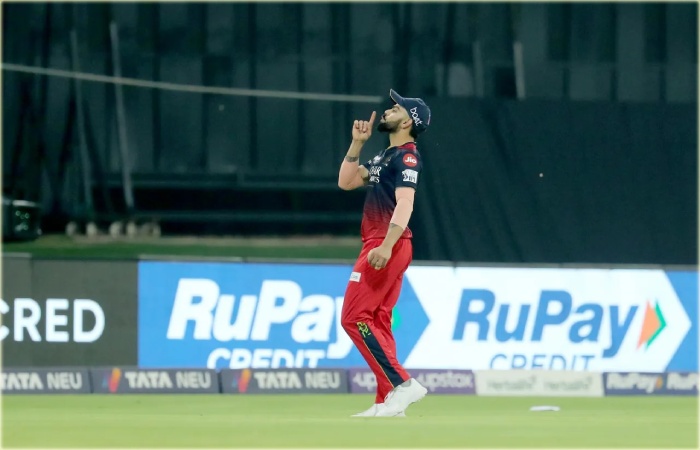 The rivalry started in the 4th over of the match when Glenn Maxwell came into the attack against stand-in skipper Krunal Pandya. However, Maxwell bowled it wide and took the pace off it as Krunal.
So, it was charge out to go for the big one over long off. Hence, it was discovered by Virat, who securely grabbed the catch to send off the batter for 14 off 11.
And how did Kohli celebrate RCB's second wicket? He blews a flying kiss to the crowd, patted their chest, then recreated Gambhir's celebration with a twist.
He put his finger to his lips and then motioned for the crowd not to shut up and keep clapping. The celebration was a little different to that of the LSG coach who had, in effect, waved the Chinnaswamy crowd to silence with the same 'finger to lip' gesture.
Furthermore, After the match, a furious Gambhir had an aggressive handshake with the Kohli before Kyle Mayers approached. The former RCB captain for a chat, but Gambhir cut him off and took him away.
So, The LSG mentor then tossed a slurp at Kohli, which draws the RCB star Virat into a heated argument. According to the video footage that has gone viral, it appears that Gambhir was the one who tried to charge Kohli even as LSG players including captain KL Rahul tried to stop him on several occasions.
KL Rahul managed to pull Gambhir away but pushed him away but not for long. In the presence of the two team members, Gambhir and Kohli had a nasty fight.
Heated Debate Between Kohli and Gambhir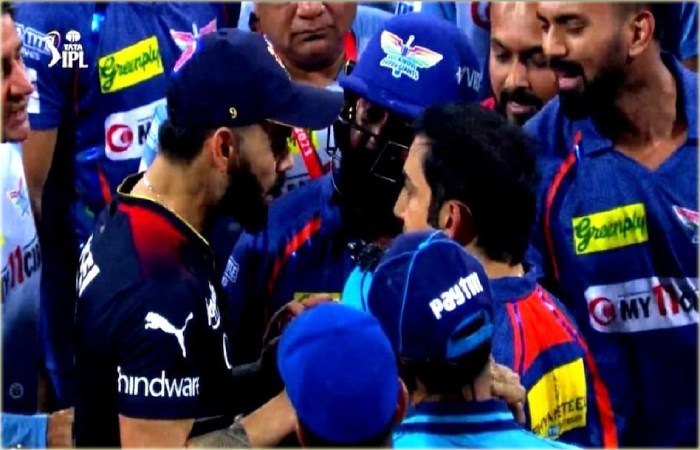 After the match there was an heated argument between Virat Kohli and Gautam Gambhir, the debate was so heated that all the two team members had to intervene. However, its videos and photos are quite becoming viral.
According to the sources, After the match played at the Chinnaswamy Stadium, Gautam Gambhir had pointed a finger towards the audience to remain calm. At the same time, Kohli gestured with his hands to increase the enthusiasm of RCB from the audience in the Lucknow ground.
This is How Virat and Gambhir Came Face to Face.
Heated Argument Between Virat Kohli and Gautam Gambhir – A moment also came during the match when Gautam Gambhir was seen walking towards Virat Kohli in anger. During this, the players of Lucknow tried to stop him. KL Rahul also came to the rescue. Virat was trying to explain something by putting his hand on Gambhir's shoulder. But, then the tension between the two increased. After this, Veteran spinner Amit Mishra tried to separate the two.
Naveen-ul-Haq's Entry in Controversy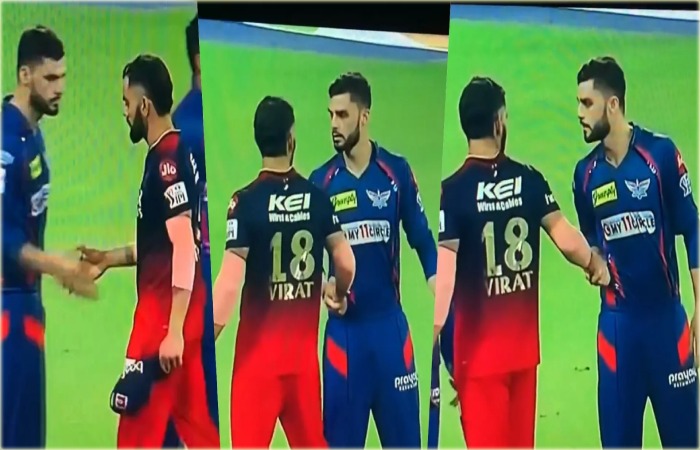 Virat Kohli said something to Naveen-ul-Haq, who was batting during LSG's innings, in the 17th over, after that both of them got into a fight. Then Amit Mishra, who was batting with Naveen, and the on-field umpire tried to settle the matter.
Furthermore, Amit Mishra had complained to umpire about Virat constantly abusing Naveen (ul-Haq), who is a No. 10 batter," an eyewitness revealed.
A footage of the match is also in discussion, where KL Rahul was calling Naveen to him. Rahul wanted the dispute to be resolved between the two, then KL Rahul was talking to Virat Kohli. This footage is also after the match. But Naveen-ul-Haq refused to talk to Virat Kohli and moved on.
Then Virat and Naveen clashed shaking hands
At the Ekana Stadium when the match was over and many players were meeting each other. So, then once again there was tension between Virat Kohli and Naveen-ul-Haq.
Furthermore, As soon as both of them shook hands, after that there was some talk between the two. At the same time, Lucknow's opening batsman Kyle Meyers was also talking to 'post-match' Virat Kohli. But, Lucknow's mentor Gautam Gambhir came between the two and dragged Meyers away.
'Toh ab tu mujhe sikhayega…': Report reveals what Virat Kohli, Gautam Gambhir said during their on-field spat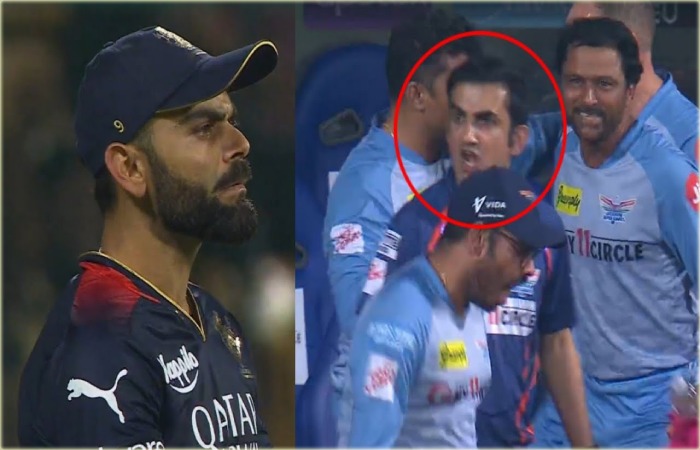 However, Gautam was sensing that things could get ugly, he pulled Mayers out and told him not to have a chat when Virat made comments. So, the heated exchange that followed seemed a bit immature." According to him, when Gautam Gambhir asked, "What were you saying?" Virat replied, "Why are you interfering if I haven't told you anything." Which was reported by the source.
According to www.dnaindia.com, Gautam replied, '(Tuney agar mere player ko bola hai, matlab tune meri family ko gaali diya hai). (You abused my player and that's like abusing my family) and Virat's response was, 'Toh aap apne family ko sambhal ke rakhiye'. (Then you take care of your family)." Then Gautam Gambhir finally reply before they were separated was, 'Toh ab tu mujhe sikhayega…' (So now I have to learn from you…)," he added.
The witness said that despite the tension and the threat of a fight, the actions of both sides seemed a bit childish. RCB posted a video on their YouTube page in which Kohli is heard saying, "You have to take it, otherwise don't give it away." While no one knows the exact formula BCCI uses to determine a mentor's sanction, both players have been slapped their full match fees.
Repeat of 2013 in 2023. But This Time Also We wish Virat and Gambhir Must Hug Each Other
Kohli and Gambhir have had a fight in IPL 2013 season as well. Then Gautam Gambhir was the captain of Kolkata Knight Riders. But this time he is the mentor of the Lucknow team. At the same time, Gautam Gambhir and Virat Kohli were also seen hugging each other in this IPL. This scene is from when Lucknow defeated Bengaluru on 10 April.
Also Read: nse: cdsl
The Heated Argument Between Virat Kohli and Gautam Gambhir after LSG vs RCB IPL match 2023 – "Toh Ab Tu Mujhe Sikhayega"
Related posts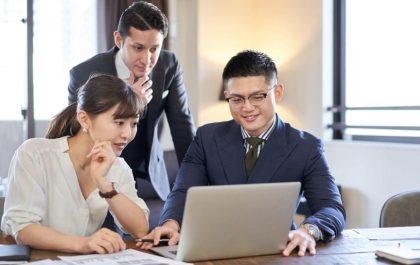 Importance of Professional Consulting in Business
Introduction As the wave of the economic environment is always fluctuating, businesses should have this habit of ups and downs…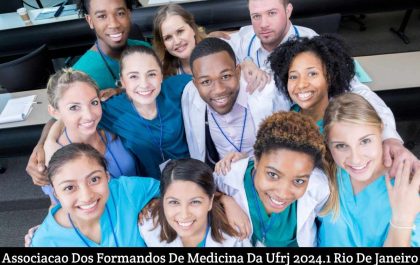 Associacao Dos Formandos De Medicina Da Ufrj 2024.1 Rio De Janeiro
Introduction The University of Rio de Janeiro's medical school graduating class of 2024.1 is represented by the illustrious Associacao Dos…